<< Back to List
Employer: Tredyffrin Township
Position: POLICE PART-TIME CLERK TYPIST
POLICE PART-TIME CLERK TYPIST:
Performs specialized clerical duties to support the Police Department. HS Diploma/GED. Min of 2 yrs. related experience. Working knowledge of computer data entry and software programs. Proficiency with Microsoft Word and Microsoft Outlook required. Cody Record Management System experience preferred. Flexible schedule. EOE.
Send Resume, three professional references, and Township application to Adm_hire@tredyffrin.org or Tredyffrin Township, Attn: Human Resources, 1100 Duportail Rd., Berwyn, PA 19312. Visit www.tredyffrin.org for full description & employment application. Submit application by February 24, 2017.
Email Resumes to:
Adm_hire@tredyffrin.org
Web Address:
http://www.tredyffrin.org
More great ways to search and be found
Local AfterCollege® Job Postings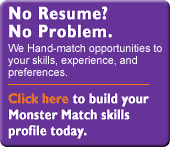 Employer Offers

Buy one job post or buy multiple job postings and save

Find qualified candidates

Career Mail Signup
Get our job openings and tips delivered to your inbox.